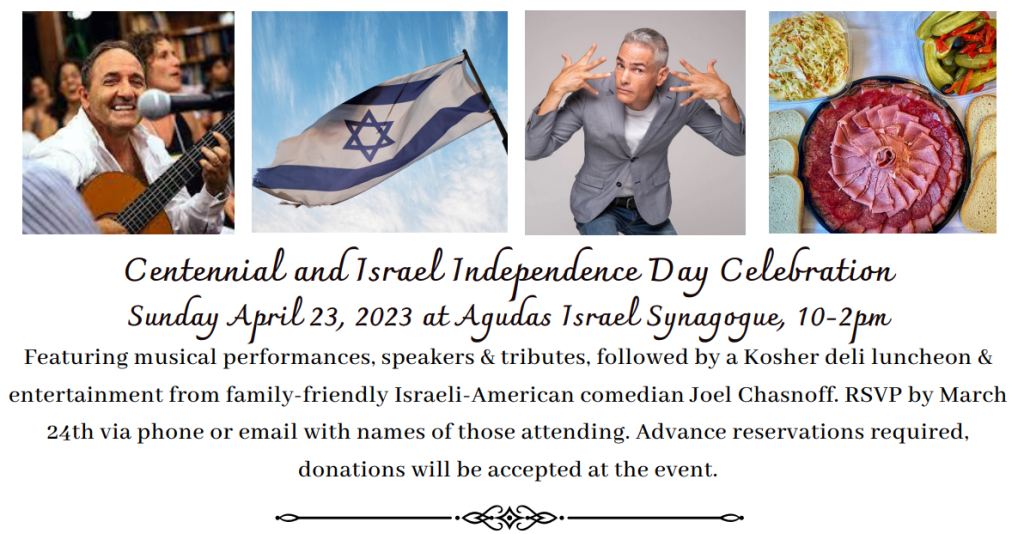 RESERVATIONS ARE REQUIRED for the April 23rd Centennial event at Agudas Israel Synagogue. Fill out the form below to RSVP. Please provide the names of all guests who will be attending for our security list.
Featuring…
Musical performances
Centennial Speakers & Tributes
Delicious Kosher Deli Luncheon by Abe's Deli in Scranton
Entertainment from Stand-up Comedian JOEL CHASNOFF
DR. RAMÓN TASAT – Born in Buenos Aires, trained in five countries, received his doctorate in voice performance from the University of Texas, Austin. He is the musical Director of Kolot HaLev, a Jewish Community Choir in the greater Washington DC area. Dr. Tasat and his wife Roanne captivated and inspired us at last year's AIC High Holiday services.
JOEL CHASNOFF – American-Israeli stand-up comedian, TV and podcast host, and author of three books, including bestselling memoir The 188th Crybaby Brigade; has opened for Jon Stewart, Lewis Black, & performed his unique brand of clean, cutting-edge comedy at 1,000+ events in 10 countries.